5
Jun
Sometimes you need to have a better stapler than what you've got sitting at your office desk.
You need something that's more heavy-duty, yet still easy to use.
You need stronger staples for boxes, affixing things to harder surfaces, or for light chores around the house.
The best manual staple gun reviews will help you to find the right tool that can meet these evolving needs and more for a very competitive price.
​Please note​ that ​we participate in ​various affiliate programs and earn from qualifying purchases. ​For more information, visit our Legal page​.
What Is A Manual Staple Gun?
A manual staple gun can also be called a hand held stapler, a staple gun or a power stapler – essentially they all mean the same thing.
When you hear the word stapler, your first thought is probably an office stapler.
However, there are many different types (more on the different types below).
Manual staplers are entry level staple guns that are powered with your arm and hand. They are typically cheaper than electric or pneumatic and used for lighter tasks.
We have curated the list below to showcase the best manual staple guns on the market today.
There is also a handy buyers guide below which will run through the different things to consider before making your decision.
Are You In A Hurry?Our Test Winner After 35 + Hours Of Research: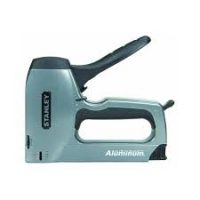 Click Image For More Info
Stanley TR250 SharpShooter
Our Rating
Click here to check the latest price and checkout the reviews 
Best Manual Staple Gun Reviews Chart
The design of the stapler hasn't really changed for more than 80 years.
You have a lever, a place to place your staples, and a mechanism which forces the staple through the materials being bound together and then fastens it.
The chart below will show you the best options that are available in today's market.
Our Top 6 Best Staple Guns (And Reviews) For 2023:
1.  Stanley TR250 SharpShooter (Best Manual Stapler)
2. Arrow T50 Heavy Duty Staple Gun (Top Quality)
3. Stanley TR45K Light Duty Staple Gun Kit
4. Arrow T2025 Dual Purpose Staple Gun (Best Budget)
5. Stanley TR110 Heavy Duty Steel Stapler
6. Stanley TR150HL SharpShooter Staple Gun
What Do Our Reviews Have To Say?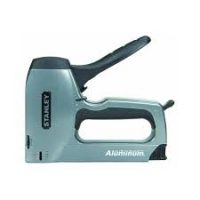 Click Image For More Info
#1. Our Overall Top Pick
Stanley TR250 SharpShooter
If you're tired of having a manual staple gun that is impossible to use, then this is the tool you'll want to look at today.
You won't have to risk pulling a muscle when you squeeze the lever on this staple gun.
It fires staples and brad nails with ease, letting you take your work into overtime if need be because your hands and arms experience less fatigue.
You can even adjust the pressure for hard or soft materials for an added level of flexibility.
Just a great product at a great price.
Be sure to check out our list of the best Carton Staplers for more great items like this.
Click here to check the latest price and checkout the reviews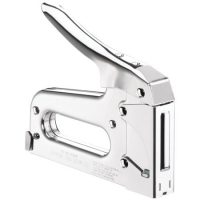 Click Image For More Info
#2. Our Top Pick For Beginners
Arrow T50 Heavy Duty Staple Gun
Is this manual staple gun going to outperform electric or pneumatic models? Not really.
It isn't designed for high-powered performance.
What it can do is give you an adequate fastener within hard-to-reach places where the other types of staple guns are unable to fit.
This is where we found the Arrow T50 to be an essential tool in your arsenal. Just make sure you've got the right staples in this staple gun.
If you don't use the right staples, the patented anti-jamming mechanisms within the staple gun are going to fail.
Make sure you also check out our guide to the best Heavy-Duty Staplers.
Click here to check the latest price and checkout the reviews
Video Transcript
keeping things together it's what we've done for nearly a century arrow is one of the world's leading manufacturers of heavy-duty staples staple guns glue guns electric staple guns and rivet tools founded in New York City in 1929 arrow quickly became famous for its heavy-duty t-50 America's best-selling heavy duty staple gun nearly every construction Pro has one of these in the truck 100% steel with chrome finish arrows t-50 stapler has stood the test of time that unmistakable sound lets you know your job will be done fast done right home owners rely on the t-50 stapler to when your projects range from adding insulation to fixing furniture the t-50 is always handy the T 50s time-tested design provides top performing driving power a Jam resistant mechanism keeps your job moving and a simple window lets you know when to refill an easy to follow color coding system guides you through the stable selection and your choices are many the t-50 can take staples ranging from a quarter to 9/16 of an inch made from steel or stainless for the most demanding applications loading the t-50 stapler is simple the familiar back load system works one two three just push slide load so when you need to fasten everything from this to this to this make sure you have an arrow t-50 stapler in your toolbox generations of homeowners and pros no arrow is how it all comes together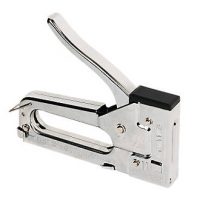 Click Image For More Info
#3. Runner Up
Stanley TR45K Light Duty Staple Gun Kit
This is your standard staple gun that doesn't offer anything fancy in the way of features or frills.
That said, it's a solid machine that has a handle you can lock so you can store it in a drawer pretty easily.
It doesn't jam often, but when it does just use the quick-clear mechanism and you'll be able to get back to work right away.
It's brand specific for the staples you need to use, so keep that in mind. A limited lifetime warranty backs your purchase and the chrome-plated steel gives you durability.
You can't beat the price either.
Our handy guide to the best Staple Gun features more great products like this.
Click here to check the latest price and checkout the reviews
Video Transcript
this is the stanley staple gun on bonus pack it is awesome you get this nice dirty case that is a nice time polyester nylon bag that is a double stitched very nicely and has reinforces edges to prevent tearing and ripping it does have the stanley label on the front it is nice and compact makes it very easy to carry in the store your stapler and your staples it has a zipper closure zips all the way around and then when you open it up you have a nice elastic band for holding your staple gun now this does have a safety latch over on it here for when you're storing it to prevent it from going off accidentally so it locks the handle in place to make it easy and compact for storing to load the staples you just push in and pull down and pull this out and you load the staples in there and then to put it back in you just put it in and tuck it in underneath there um it's very powerful it does a great job it's very easy to use very easy to hold and to grip it's all aluminum steel that is very nice and very durable then in addition to receiving the staple gun I also received this staple case which the lid just slides off and then it came with these staples in it and then you just put the lid back on and you tuck it back in here and another elastic band and you can keep everything together safe and secure without worrying about anybody getting hurt or anything plus makes it nice to tuck inside your toolbox or your tool case and then it just zips up and it becomes very portable and compact for storage and for taking with you to do different jobs my husband works on our house plus he works on my daughter's house it seems that every time something goes wrong everybody's calling him to fix it or whatever and this makes it nice for him to be able to take with him and to use and not have to worry about leaving the staples behind or leaving the staple gun and having to make three trips across town it's all together nice and compact and very portable I'm very pleased with the quality and the design of this bonus pack and I do recommend I did purchase at full asking price at time of purchase and I am providing my honest unbiased opinion based on my use and experience thank you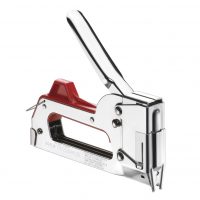 Click Image For More Info
#4. Runner Up
Arrow T2025 Dual Purpose Staple Gun
If you need a manual staple gun that can fire flat crown and round crown staples, then this is the tool for you today.
The easy squeeze handle works pretty well despite the lack of padding or ergonomics and the jam-proof mechanisms do a pretty good job of letting you keep working.
The chrome finish is pretty durable and the handle locks down for better storage.
Apply pressure to the site you wish to place a staple and you'll have a good experience.
Without enough pressure, you might find your staples going places you never imagined.
Find more great products like this by checking out our guide to the best Electric Stapler.
​Click here to check the latest price and checkout the reviews ​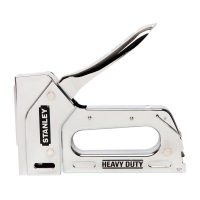 Click Image For More Info
#5. Runner Up
Stanley TR110 Heavy Duty Steel Stapler
Our Rating
This entry-level model from one of the industry's top brands is the perfect manual staple gun for light duty work around the house.
It's a lightweight stapler that will let you get into tight places with ease while taking care of your hobbies at the same time.
The hand locks down with a hinge on the back of the unit.
You can also use it tack up some chicken wire or other light outdoor tasks.
It's not going to work well for siding, roofing, or other fencing chores, but takes care of all the rest with ease.
We have also reviewed the best Flooring Staplers, so check them out as well.
Click here to check the latest price and checkout the reviews ​
Video Transcript
oh here's a stanley staple gun right now if you're mentally challenged like me and you don't know they're supposed to going like that right but this thing here says loading a line here and uh but it doesn't say how so I thought here like this first of all the not right watch the magic the way they're going to shoot right and you clip this bitch and like this slide and then watch this boom it works stain your staple gun no instructions for retards
The Advantages of a Manual Staple Gun
The average office stapler can take care of many tasks. It binds papers together.
It affixes papers to cork board. It can seal a cardboard box in a pinch.
What it can't do, however, is be useful in situations where firm or thick materials are being used. This is where the best manual staple guns step up to the plate to provide you with some help.
The advantages of owning this tool are clear.
You have the power to finish office and household chores. A staple gun can still be used to bind large documents and seal boxes. It can also be used around the house for light repairs.
It is safe and lightweight. Manual staple guns are much like the office stapler when it comes to safety. You've got to use the product incorrectly to injure yourself or damage something. There is no trigger that can be accidentally depressed.
Different designs allow for ultimate versatility. Front and rear lever designs with manual staplers allow virtually anyone to take care of their stapling needs without fatigue, even during long-term use of the tool. 
They are quite cheap. Compared to electric or and pneumatic guns, manual guns are pretty cheap – we go into why a little further below.
To guarantee you gain access to the most advantages possible, it is important to look for a manual staple gun which is built like a tank. Look for heavy-duty, non-corrosive materials for the best user experience. This tool should be able to take a drop, yet still be able to keep functioning at the end of the day. 
Then there's the cost advantage that comes with a manual staple gun. For the price of what you'd pay for the average lunch, you can get a top of the line tool that will let you get your chores finished quickly. 
Pros and Cons of a Manual Staple Guns
Pros
There are loads of different styles of manual guns on the market. This means you are almost spoilt for choice.
Staples are super easy to load into the gun.
You don't require a power source, meaning you have increased mobility and can use the gun in places without power or air.
Cons
There are loads of different styles of manual guns on the market. This means you are almost spolit for choice.
Staples are super easy to load into the gun.
You don't require a power source, meaning you have increased mobility and can use the gun in places without power or air.
Manual Staple Guns vs Electric and Pneumatic Guns
As you already know, there are literally hundreds of different brands and models of staple guns on the market and trying to decide which one is right for you and your project can be a little daunting.
Before you decided on a brand or model it's important to understand the different types of staple guns. There are 3 main categories – manual staple gun, electric staple gun and pneumatic staple gun.
They are broken down by their power source. Obviously manual mean manual i.e hand powered. Electric can mean both battery and cord. Pneumatic means air powered.
​
Manual Staple Guns
As mentioned, manual guns require you to physically pull the trigger to shoot the nail. While this isn't difficult or hard, if you are looking at prolonged use rather than light ad hoc jobs, then it can get tiring quickly.
Relying on arm power has its advantages though – mainly you can take the gun anywhere without a cord attached. Also, they tend to be cheaper and because they don't have any complicated electric motors etc they are much less likely to breakdown or require maintenance.
Ultimately, it's a trade-off between wanting ease of use (electric or pneumatic) vs cost, maintenance and mobility (manual).
​
Electric and Pneumatic
These guns are typically used by more experiences or active staplers – think contractors, furniture restorers, construction professionals etc. They are almost effortless to use, and super powerful making them great for these types of users.
There is a downside though, and that is price.
​
Summary
While each have their pros and cons, typically manual staple guns are cheaper and less complicated (read: they don't break as often). However, they do have their downsides, in that it requires your physical strength to shoot each nail which can make long use tiresome.
Because of this manual staple guns are mainly used for lighter, less serious projects. You typically wouldn't find a professional contractor using a manual gun.
What Can You Use A Manual Staple Gun For?
As we have mentioned above, manual staple guns are great for little jobs – typically fixing things around the home, repairing furniture etc.
For these types of tasks, it is great.
However, please don't think (and certainly don't try) to remodel an entire home with one. It's a possibility that your arm may fall off halfway through.
A manual staple gun is useful for these types of projects:
What Can't You Use A Manual Staple Gun For?
Technically you can use a manual gun for anything, but there comes a point when you wonder if the extra effort is worth it, or are you best paying a little extra for an electric or pneumatic gun.
In our experience, most small jobs or DIY projects can be tackled with a manual gun, but you would be best staying away from the bigger jobs.
A manual staple gun is not good for:
Laying carpet throughout an entire house.

Any large carpentry jobs.

Installing fencing (even garden fencing becomes a pain with a manual gun).

Any major home repairs.

Renovating a house or property.

Any kind of commercial work.
Manual Staple Gun Buyers Guide
​
So far in this guide you have seen our recommendations, why we recommend them and the pros and cons for each. You also know that one of the main decisions you need to make is if you need a manual gun or something a little more powerful.
However, there are some other important aspects you also need to consider before you make your final decision – hence this short buyer guide.
At the end, you should have all the information you need to confidently make the right decision.
Hand Grip
The hand grip is probably one of the most important things to consider, but almost always overlooked.
As you already know, staplers come in all kinds of shapes and sizes. But not all shapes and sizes fit different hands, and not all are designed with comfort in mind.
The way the slow is designed and shaped with have a big impact on how sore and tired your hand will get over time as you use it.
All the recommended guns above have been selected as they were designed with this in mind, however there are lots that aren't.
As well as the design, you should also consider the material that the grip is made from. Ideally you would want to chose one either made entirely from rubber, or at least have the under grip rubberised.
As you work, your hands are likely to get sweaty and wet – if you have to keep stopping to dry your hands then you will disrupt your flow making the job twice as long. It could also pose a safety risk – best case your accuracy is reduced, and you miss your target. Worse case is your hand slips off the gun.
If this is a concern, then we would recommend looking at the Stanley TR150HL SharpShooter Heavy Duty Staple Gun​. It's one of the highest rated manual staple guns, and for good reason. Its hand grip is nice and comfortable, and it is covered in rubber – ensuring that none of the above happen.
Staple Size
We have included staple size as it's an important factor to consider. However, most manual guns fire a standard ½" staple.
If you are looking at a manual gun that doesn't fire this standard size, then you may want to reconsider. All the recommended guns above use this size, so you don't need to worry.
Staple size is more of a concern when looking at electric and pneumatic staple guns. Most will have dials that enable you to shoot different sizes. As you can imagine, if you are renovating a house, then you will need all kinds of different size staples.
Ease of Use
This is almost a given, but aside from choosing the correct grip there are also other factors to consider. I would imagine that you will be using your new staple gun for lots of different projects and sometimes in lots of different situations.
Because of this you are going to want a gun that is not only light, but durable, manoeuvrable and easy on your arms and hands.
In most circumstances you are going be shooting more than just a few staples at a time, so ensuring that have the easiest to use stapler is important.
To get the best out of your gun, you almost need to imagine it being like an extension of your arm.
Durability
Even though manual staple guns are expensive (compared to electric or pneumatic), you don't want a gun that will fall apart after a few uses.
All the recommended ones above are top rated, and most have hundreds of positive reviews so you can be confident that others have used them time and time again with no issue.
Staple guns can be made from plastic, metal or steel – but to be honest, there isn't much difference. Sure metal is stronger than plastic, but unless you are looking at using it for commercial use (please don't) then you would be hard pushed to physically break a gun through general use.
Best Manual Staple Gun for Upholstery
DeWalt DWHTTR350 Heavy-Duty Aluminum Stapler/Brad Nailer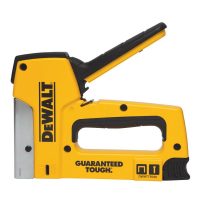 If you are going to be upholstering or re-upholstering, then you are going to want a heavy-duty manual gun.
They don't come much sturdier than then DeWalt DWHTTR350 – making it the perfect gun for upholstery. Not only is it durable and built to last, but its comfortable and has a great firing mechanism ensuring that it rarely jams, and the staples are driven deep.
The handle is awesome – not only is it designed to be comfortable, but it is covered in rubber. Not only is it easy on the skin, we spoke above about all the reasons why a rubber grip this is important.
The DeWalt is one of the highest rated upholstery guns, with lots of users talking about how they have used it for their fabric projects. The consensus is that it's a fab gun and is about the best on the market for upholstery projects.
For the price, you simply can't go wrong – and we guarantee that you won't regret purchasing this gun.
Click here to read the reviews
Best Manual Staple Gun for Wood
Stanley TR150HL SharpShooter Heavy Duty Staple Gun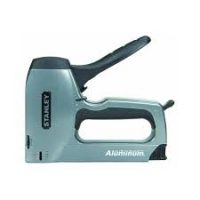 The TR150HL is Stanley's upgraded SharpShooter. If you are looking to move up to a more heavy-duty gun, or looking to purchase your first, then you won't go far wrong with this one.
At first glance, you would be mistaken for thinking that this is like any other normal staple gun, however as the name suggests it's been designed specifically for heavy duty tasks.
Usually if you are working with a manual staple gun for long periods then due to the pressure, your hands will go numb. But the SharpShooter has a neat little feature to help stop this from happening.
There is a setting that will allow you to switch between two different pressure settings: high and low. If you turn on the high setting, then the mechanism inside overcompensates and means that you don't have to press the handle so hard. It also increased the power output, giving you that extra boost when you need it.
When it comes to working with wood, having the ability to switch between high and low power means you can work with different types of wood more easily without having to work about splintering or cracking.
Overall this is our top pick if you are looking for not only a great wood working staple gun, but a good staple gun in general.
Click here to read the Reviews
Best Manual Staple Gun for Insulation
Arrow Fastener T59 Wiring Tacker
The Arrow T59 is probably one of the best staple guns that you can get for installing insulation – and coming from us, that's a great recommendation.
The T59 is well recognised throughout the industry as has a top-rated gun and this is evident when you look at the reviews. Hundreds of happy users, including lots of professionals.
All of this is quite surprising when you consider how cheap this gun is!
You maybe wondering why the T59 is called a wiring tracker, but we are recommending it for installing insulation. It's because it can take several different staple sizes, which makes it versatile.
You can literally put up xmas lights, run TV wiring around the room, upholster, and install insulation all with this one gun.
A great feature we like about the T59 is the little guide notch so you can see where you are shooting ensuring accuracy. Also, the handle is nice and light making it easy to use and keeping hand and arm tiredness to a minimum.
Overall this is a top pick not only for insulation, but if you are looking for a great all rounder manual staple gun that is cheap (but not cheaply made).
Click here to read the Reviews
The Prices of Manual Staple Guns
When shopping online for your next manual staple gun, you'll find that you can get a really good product for around $20. Many of the top of the line staple guns in this category rarely exceed $50. In return, you'll have an adaptable tool that may be able to use different sizes of staples based on your needs.
Recap
Here are our top 5 Best Manual Staple Guns:
how to load manual staple gun
Video Transcript
hey everybody welcome back to homesteading off-the-grid we've got a very simple video for you today but it's a very important lesson it's how to load and unload the arrow t-50 staple gun and we're going to show you some pointers here after we show you how to load and unload this in regard to making your staple gun last longer and even more importantly than that is how to keep your staple guns safe around the house especially if you have children so this is very simple if you'll come up close here the arrow t-50 loads from the back I'm first we've got to take this bracket this back part off and we just push this we simply push that in bring it down a little bit and then he comes right out okay now I'm going to show you here briefly how we going to put it back in once we get the staples in we just line these ends up in these grooves just like this and then it goes right down there like that and then we just do the opposite on the way back in we're going to bring it down a little bit first to go underneath the groove slide it up and then it locks so let me take it back off show you again it's very simple slides right out and now let's put some actual staples in it so the staple gun itself we got this at Lowe's for about seventeen dollars and we got the the staples at Lowe's for about eleven dollars so it's about $28 just two hundred thirty dollars for this whole tool and the for the stapler and the staples so we bring these out like this and guys just as you might imagine you simply take your staples line the grooves up like this drop them right down in there and then as I showed you before we simply line these grooves up go in like this and now it's gonna be a little more you got to apply a little bit of pressure here because there's staples in there obviously but then you bring this down put it up and it's that simple now I'm going to show you the notice I'm not aiming this towards my beautiful bride who's filming this video I'll tell you guys and this is what I'm going to talk about as far as a safety issue goes I don't think enough people realize how dangerous simple tools such as a staple gun can be don't point it at anybody just like it's a like a gun or a real weapon in the military we call them weapons in the civilian world you'd call it a gun pistol handgun don't point this at people okay just a good habit to be into now this table has a glass top so I'm not going to show you how it works on the glass of course but it'd take my board you see there's no staples in it whatsoever I just go like this boom look at that works just fine right perfect first shot got it loaded got the first shot in there now I'm gonna show you how to unload it as I mentioned before simply push in slightly bring it down a little bit and then comes right out just like that I was applying pressure at an angle that's why it took me about two seconds to do it because I'm trying to hold it towards the camera there and then these slide right out there they go give it a little bang like that and they'll slide right out but guys here's the importance of unloading this let's say I'm finished for the day I put my staples in I loaded it up and I got my project done for the day I don't want to keep this thing loaded with this spring in here because that will keep pressure on this spring let's say I go through half of the staples and I keep this in here loaded in the in the staple gun that's going to keep pressure on this spring and in time that's gonna make this spring wear out it's not gonna last as long as if I unload the staple gun now to make sure I don't lose this after I've taken my staples out I can load this back up and that's probably the best practice and simply put it back in there so that way it's all in one piece then keep my staples together somewhere but by taking the pressure off that spring that's going to allow my tool to last longer what will happen is that if I keep this halfway loaded all the time it'll still last probably several years but eventually that spring is not going to go it's not going to push the staples all the way forward because let's say I have the gun sitting around halfway loaded all the time and it's like this once say two or three years go by and the spring starts coming up here the spring is going to be so worn out it's not going to go all the way up like this this is and so I'm going to have to go buy a new staple gun there are only seventeen dollars which isn't a lot of money but I mean that's seventeen dollars I don't want to have to spend sooner than I have to so that will help make your staple gun last longer than also you will avoid jams that you might get at the future in the future because your Springs worn out secondly we have a son a many of you watching this have kids or grandkids nieces nephews neighbor kids that come running around I mean you saw I drove a staple into this bored kids mess around kids find things kids play with things and unfortunately we see in the news there's too many instances where kids are finding loaded guns and homes and bad things happen the kid can get ahold of a loaded staple gun in a home and bad things can happen you know what I'm saying so I'm gonna show you something else here real quick too because a lot of folks wonder about this because let's say you've had your staple gun there in your garage for a while and you've got all your staples and you come in you only need six or eight staples for a project you got a staple something together and your staples are all broken up and bust it up like that well it worked can I still use these or do I need to go buy a brand new box so that I'll use something like this these absolutely will work so don't throw them away just because they they're broken up what you do is you simply load them up the same way you would as if the strand was all entirely together slide them in there line up the grooves go like this down and slightly up okay now you remember we've only got one staple in our board so far let's come on over here and you saw me put in the broken staples so let's see boom there we go works just fine so even if your staple rows broken up and then again when we're going back into storage down can't do it an angle there we go out then they get these out well they came out easier that time and don't point the gun at my beautiful bride or anybody else just treat it as if I mean these things can be dangerous Safety's always the best practice there you go now when we store these when we're done we like to use Tupperware containers of various sizes we'll just put all this stuff in a little Tupperware container that will hold it all put it in our garage out of the reach of our Sun even though it's unloaded again taking the pressure off the spring and providing for added security purposes so we hope you enjoyed this video is a pretty simple process about it's pretty simple product but if you've never done this you need to know how to do it so we hope this video helped you learn how to do this if you enjoyed this video please consider subscribing to our channel homesteading off-the-grid and we'll see you next time for more
how to use manual staple gun
Video Transcript
hello Dan here with dk lesser general contractor Washougal Washington today we've been asked to how to operate a staple gun well of course to operate a staple gun you're going to need a staple gun and staples but be careful and make sure you are using the appropriate stapler and staples for every project so I'm going to show you how to load it first pull the back pin out and you have two parts you take your staples load them in staple down point down otherwise it won't work so pretty simple it's loaded so here's a staple gun over here I got some string it's real simple I'm going to lay this out on my workbench you could use a staple gun for many different applications a lot of upholstery shops use them so we're going to take staple gun push the tip down and pull it out there you go again hold the tip down firmly squeeze I got pretty big hands pretty big arms so I really don't have to worry about putting the pressure on there but there might be some ladies out there that got them dainty little arms here's what I would do if I was a dainty little lady puts weight on the top of it squeeze it and it's going to go in what happens is sometimes the lady's like my wife she's tiny little lady she'll try to use a staple gun and get all upset because a staple doesn't go in all the way like this one and I'm explained to her look like I'm explaining to you guys hold the top down push jaws you're doing is putting pressure on it so it doesn't it doesn't jump back up because of course you're pushing down right there it popped up so how to use it hold it down put some pressure on it there you go a lot of folks use these for hanging Christmas lights this time of year it's Christmas time here and upholstery shops use it for a lot of poultry a lot of crafts you know you got a crafty folks could use them but the really good tools there is many different staple letters staple guns this one right here when we picked it up I got our stapler and I also got our staples as you can see here in the top left it is three eighths ten millimeter which goes to this gun so when I got my staples I matched them up couldn't tell you how many times in the past I went got staples for a staple gun and I have stacks of staples that don't go to staple guns so be very careful when you do that there's also many applications for staple guns depending on what you're doing if you're putting your roof on there's a staple gun for your felt which acts like a hammer so long stapler about 12 inches and there's heavy duty staples this is more of a homeowner friendly one small staple I'll pull that out real quick so you can see how the size of it very small staples very hard not to pull them out if you need to pull them out and there's very large staples you get staples up two to three inches and also there's something staple guns that are pneumatic which pneumatic would be use your air compressor more of a heavier application so more homeowner use more friendly this is it how to use the stapler and pick them out so make sure you match up your staples to your staple gun so that is how to operate a staple gun and this is Dan with dk Lister
how to unjam a manual staple gun
Video Transcript
everybody welcome to homesteading off-the-grid we've been working on our new chicken house here and we were stapling up some of the chicken wire and our arrow fastener t-50 staple gun got a jam in it and if you've never cleared a jam in one of these staple guns that can be frustrating we're going to show you how to do it this is a very simple video because it's a very simple process if you know what you're doing and we want to save you a lot of time so there's basically the jams up here this entire mechanism on the bottom comes out and it comes out by way of undoing this screw here on the back so what we want to do is we want to take out our I want to call it a firing pin there that's what we call them in the army that's the the spring and then see if you can get some staples out know these came right out but I can still see the ones that are jammed in there so what I do from this point is I simply need to make sure I have a Phillips head screwdriver or you can use a drill and I need to have a pair of pliers to be able to capture this and hold it so that it doesn't come loose as I unscrew this so what I'm gonna do is simply unscrew this now I use a Leatherman I keep a Leatherman on me at all times because as you know they have multiple tools in them so I'm gonna use my Leatherman to hold onto this and I'm gonna take a Phillips head screwdriver and I'm gonna unscrew this it's pretty simple comes right out and make sure you don't lose your stuff everywhere so I'll put that there put that there and now after I've done that this just comes right out and so there's our mechanism and you can see see yeah it looks like there's a screw or a staple on top of itself in there I don't know if you can see that through the camera but it looks like they're kind of so now that this is out I'm gonna take my Leatherman once again and I'm just gonna clear it out I'm gonna get all of these staples out of here pull those back I'm gonna clear those up here after this video I'm not gonna let this therefore my chickens need once they transfer into this new pin and I'm going to take that one out and take theirs the last of them and then down there is the culprit did he come out yep so it's now clear see that there are no staples in there make it sure no staples so then we simply put it back in okay now I'm gonna show you how to put it back in I always like to make sure to have my bolt in my hands so that once my holes are lined up I can just slide it right in but you'll notice there's a couple little nubs here on the end of this and we're gonna make want to make sure that they're lined up and come out this hole out of these holes they won't come out very far they won't protrude but they do need to be lined up so I line them up here over here because I often give a little tap down on my staple gun here once I slide this back tap it down yep they're lined up you see that and then I just take my boat and I slide it right back in where I brought it out from and I'm gonna get my own nut screw it back on like that and then here are my little needlenose pliers from my Leatherman they're just gonna go around this side I'm gonna use my screwdriver on the other side so I grab that so grab that till won't move and then I'm gonna use my knees here and then I just screw this back in it's already pretty tight I tighten it up pretty good with my fingers there we go I've went through all the way tighten it up all the way and now it's tightened up all the way and now it works it's not jammed anymore we'll reload it we'll get back to work and we'll get our chicken pen finished hopefully before the rain comes so we hope that you enjoyed this video we hope you learned something from it about how to fix a jam from a Aero t-50 staple gun if you did please subscribe to our Channel and join us next time for more here at home studying off the grid it worked
Final Words
​The best manual staple gun reviews will help you find the right tool that you need for those tight places where a staple is needed. 
​Use these reviews to find the best tool to meet your needs today and then power out your chores like never before.