14
Dec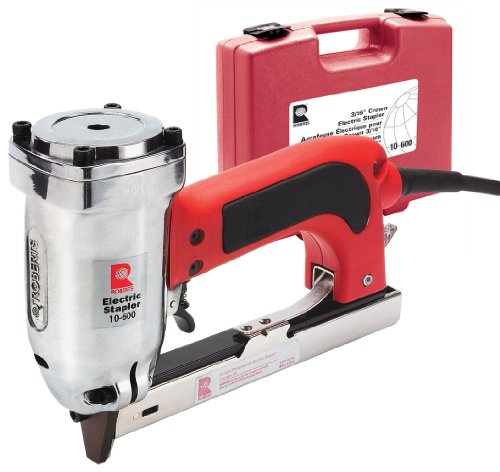 When it comes to electric staple guns, the results can sometimes be hit or miss. Sometimes the value-priced staple guns can outperform those that are marked as being construction-grade staplers. For the Roberts 10-600 120v 15 amp electric stapler, there's a reason why it's the #1 power construction stapler consistently sold online at different stores. It is able to perform consistently, provide users with a tremendous level of quality, and it does so for less than $100.
Here's what we really liked about this particular electric stapler and a couple of things that could maybe be changed with updates to this model.
This Is a Very Strong Electric Stapler
We never had this stapler jam. We used it on solid wood products without an issue. There was a flush staple every single time. Even if you're trying to upholster your furniture, you'll still receive a good fastening experience even if your putting on several layers of fabric. The only issue here is that the fastening experience is so good that if you make an error, it is a hassle to remove the misplaced staple from its location.
The Roberts 10-600 electric staple gun also takes a very specific staple that may not be available locally. Make sure that you place an order for 3/16 inch crown staples so that you can utilize the features and advantages this stapler has to offer. Most staples in this size offer standard legs of 3/8 of an inch, but it will accommodate longer legs if your project demands it.
Ease of Use: Perfect 
As this is being written, there is a brace on the arm of the reviewer because of a carpal tunnel issue. For several construction projects, this makes it difficult to place enough leverage on the stapler [or other tools] to receive an adequate result. This wasn't a problem with the Roberts 10-600. The balance of this tool is excellent and it feels fairly lightweight when using it.
As an added benefit, you can also use this electric stapler at a variety of angles thanks to its compact size. This limits the amount of manual stapling and hammering that you've got to do, making it a great tool for anyone of almost any age.
Outcome: Job Completed 
The 1,500 watt drive of this electric stapler means you're going to have a solid fastening expereince with every staple. The heat-treated hammer mechanism is relatively solid and the magazine holds up to 85 staples at one time. The 12 foot power cord is just long enough and the handle prevents arm fatigue thanks to its ergonomic design.
We were impressed with how well this electric staple gun works. If you need a solid tool and are willing to make the investment, the Roberts 10-600 has the power to get your next project completed and leave you feeling satisfied.
Click here to check the latest price and checkout the reviews.