25
Dec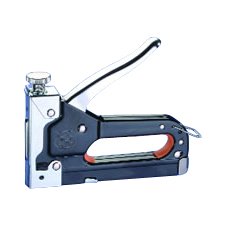 Most of the time a cheap staple gun is something you're going to want to avoid. "You get what you pay for" is a common piece of advice, right? The Textol Systems heavy duty staple gun might just be the exception to that rule. Retailing for less than $10 online in some instances, this adjustable staple gun can help you finish a remarkable number of chores without making you worry about your budget. We put this staple gun through some rigorous tests and this is what we discovered it could or could not do.
Adaptability: Pass 
We tested this heavy duty staple gun on a variety of materials. It did well on hardwoods, soft woods, upholstery, fabrics, and even paper – though it's overkill for paper, of course. Would we want to use this to staple down an entire hardwood floor? No. Can it be used for limited needs across a wide variety of needs? Absolutely. There are even tension controls included to help you be able to work in different ways.
Durability: Pass 
We heavily used this staple gun over the course of a week and it did very well. Now if you're using it like we did week after week, there may be some long-term durability issues that you encounter. For the average use this staple gun is going to receive, however, it is going to work well with a minimum amount of maintenance. A little lubricant now and then after a couple magazines of staples really helps to keep this staple gun functioning properly.
Usability: Somewhat Difficult 
We struggle to give the Textol Systems heavy duty staple gun a "pass" rating here, but it doesn't really fail either. It just requires a very specific form of use for users to get a consistently flush stapling experience. You have to keep the staple gun completely flat against the surface for it to create a flush fastening experience and then apply relatively firm pressure to the tool. The best part is that the housing is a little smaller than it is with your average staple gun, so more users are going to be able to get the results they want with this product.
Safety: Pass 
The safety feature on this staple gun is rather simple. It has a locking loop that comes over the handle. The catch here is that you must remove all of the staples before engaging the lock. This forces the unit to be unloaded, so if little hands come around and figure out how to unlock the staple gun, they still aren't going to activate an accidental misfire.
Overall: A Great Deal 
This isn't a commercial grade product. If you're installing linoleum, fencing, decking, or have similar chores on your to-do list, then this isn't the tool for you. If you have light duty tasks for tacking that need to get done, however, then the Textol Systems heavy duty staple gun is going to become a favorite tool in your tool box.
Click here to check the latest price and checkout the reviews.