4
Dec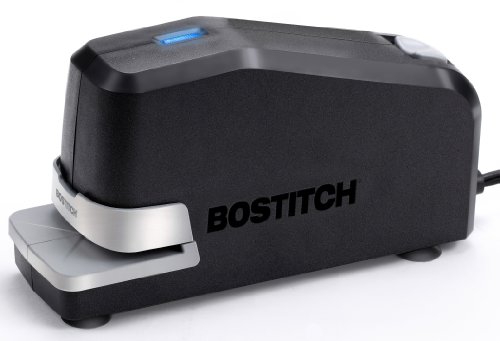 Are you tired of electric staplers that offer you the promise of high capacity use, but fail to deliver? Do you want a reliable stapler created by a reliable brand that will give your home, office, or classroom setting some new life? The Bostitch Impulse 25 has been given this name because it can staple up to 25 sheets of standard paper. It offers no-jam technology that eliminates staple jams and this tech really works.
What is the end result? You can complete your high volume stapling needs in 3x less time when compared to a conventional manual stapler. You'll also benefit from these key features which Bostitch has included with this #1 best-selling product.
You know when you've got to give this stapler more staples. Although there isn't a refill window for users to track staple usage, there is a refill alert light which allows you to know when more staples are needed.
Easy loading features that allow almost anyone to use this stapler. The Bostitch Impulse 25 comes with a push-button staple reloading tray that is reminiscent of a computer tower CD-ROM drive. The tray pops out, you place the staples into it, and then you close it. It's that simple.
It offers a magnetic holder. You can keep your tacks and paper clips next to this stapler for easy office supply access thanks to the magnetic holder that is built into this model. 
Take advantage of the 7 year warranty from Bostitch, the 0.5 inch throat depth, and the full strip of 0.25 inch standard staples this unit can hold. If you're ready for easy stapling experiences even under high volume use, then this is the electric stapler that you're going to want. 
What Did Our Testing Discover? 
Can this stapler accommodate high volume use? Yes. Will it last long while performing high capacity use? That's doubtful. We had no problem running about 500 documents through this stapler during our testing period. Most high capacity users who have about 500 staples per day note that this stapler lasts about a year before it refuses to work any more.
There is also some noise that comes from this particular stapler. Although it isn't the loudest stapler we've ever used, there is a rather unique banging noise that occurs when a document is stapled. It's a noise you get used to hearing, of course, but it could be disturbing to those around the stapler when high volume stapling is happening.
As for the actual stapler components, the housing of the Bostitch Impulse 25 is rather sturdy. We found that about 15-20 sheets worked the best in the stapler even though it was rated for a few more. In return you get to save the energy that is required through the manual stapling process and the convenience received is worth the small cost of this unit.
Would we recommend the Bostitch Impulse 25 non-jam electric stapler to others? We absolutely would. It may not be a long-term solution for high volume stapling, but the small investment this tool requires will pay for itself no matter how often you use it or how long it lasts.
Click here to check the latest price and checkout the reviews.