3
Jun
One of the top producers of staplers in the world today is Bostitch.
Not only do they make high quality office supplies, but contractors, DIY homeowners, and others involved with construction can benefit from their electric, handheld, and pneumatic heavy duty staplers as well.
This global manufacturer is one of the most popular brands and these Bostitch stapler reviews will show you why your first thought should likely be toward a stapler made by this brand.
Are You In A Hurry? Our Test Winner For The Best Office Bostitch Stapler: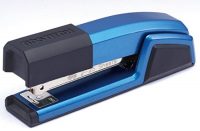 Bostitch Epic All Metal Antimicrobial Stapler
Our Rating
Click here to check the latest price and checkout the reviews
Bostitch Stapler Reviews Chart (Best From Each Category)
What kind of stapler do you need today? There's a good chance that Bostitch as the perfect model just waiting for you.
The chart below will help you find the best stapler this brand has produced in the category you need.
What Do Our Reviews Have To Say?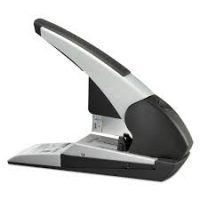 #1. Our Overall Top Pick
Bostitch Auto 180 Xtreme Duty Automatic Stapler
Our Rating
For a heavy duty stapler, you generally need to push through thick documents to avoid the clinch barbs that can prick a finger unexpectedly.
Does this stapler leave barbs on thin documents? Not that we noticed.
You don't have the legs come back through the document because the staples are trimmed to the right size. ​
The clinch of the staple is a little different than a standard staple, but that's really the only issue of note.
If anything, the features built into this tool are designed to help you work productively..
Be sure to check out our list of the best Electric Staplers for more great items like this.
Click here to check the latest price and check out the reviews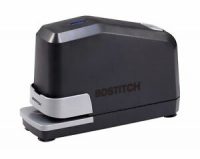 #2. Our Top Pick For Beginners
Bostitch Impulse 45 No Jam Electric Stapler
Our Rating
You know when you've got to give this stapler more staples. Although there isn't a refill window for users to track staple usage, there is a refill alert light which allows you to know when more staples are needed.
It also comes with a push-button staple reloading tray that is reminiscent of a computer tower CD-ROM drive.
The tray pops out, you place the staples into it, and then you close it. It's that simple.
You can even keep your tacks and paper clips next to this stapler for easy office supply access thanks to the magnetic holder that is built into this model.
Make sure you also check out our guide to the best carpet staplers.
Click here to check the latest price and checkout the reviews
Video Transcript
[Music] hey there guys and today we are gonna be talking about the Bostick the bus stitch staple at the electric stapler yes okay I've had this stapler for good probably what is it maybe around two and a half years now and it is a really good staplers it's really heavy-duty strong you know and sturdy it's not something that you could actually well you could travel with it I guess I mean but it's a little big for that I think in a little heavy and it's made to be on the dust and desk and kind of stay there I think yeah it's really really well built and like you could drop it and actually I have dropped it it'll keep going it's really really built to last it has these suctions on the bottom here to keep it in place like you know so it doesn't move when you're trying to you know use it what it has here is a button here on the top that releases this bottom part right there and then we pull this out not you see this is where you load all your staples and it has actual extra staples in here that reload automatically see this is the main one but on the sides is extra staples so once this is out it'll automatically bring those other ones over put them into play yeah that is pretty awesome I say I mean how often do you see that in the staple right right so you pop that right back in yeah and what this is here is a is a indicator light that actually tells you when your staples are almost gone or gone when it needs when you need to reload you know this light will come on that's awesome too most of the time when you're trying to understand I mean if not understand but most of the time when you find out that your stapler is empty is because you're right in the middle of stapling something and you try to staple it and oh nothing's happening that is your indicator at least this light will come on to let you know even before you get started that it's empty so you need to add which is cool a very nice little additive for your staples yeah for your stapler it um staples really fast it can staple up to 20 sheets at a time that is that is something I mean I've never had to do that many sheets at a time it it comes down pretty hard to that many sheets of paper and be able to make it work yeah that's pretty cool and the one of the best things I'll say about having this is because of one of the biggest complaints about staplers in general even electrical staplers is the fact that a lot of times they will get jammed now stapling well you get staplers while you're stapling jams while you're stapling rather it's a headache because then you have to get in there with some kind of a tool pry it out you know it's some kind of a knife or some sharp object or something you can get it out of there and get that messed up staple out of there and uh you know continue stapling and hope and pray that it doesn't happen again this last stitch a peeler has anti no Jam technology no Jam technology is anti jamming technology that's awesome and I pretty much swear by it because I've had this for over two years now and I've done a lot of stapling a lot of it it is never jammed not once I can vouch for that it's amazing that it does not Jam ever it makes me want to open it and check out and see what is exactly happening inside to make it not Jam I need to know yeah it really works if it really does not ever Jam staples very well I really like it I really think that it's a good buy the only thing is it's a little big it doesn't it doesn't allow for it to be compact and if you came in case you want to travel with it or something I usually want everything I have to be kind of compatible but I use this anyway on my desk and I never don't ever move it so yeah I wouldn't travel with it because it's a little heavy too but it's a very good stapler it does the job and that is it okay that is it for the bus stitch electronic stapler alright I hope you guys use this information yes I'll talk to you a bit all right [Music] you [Music]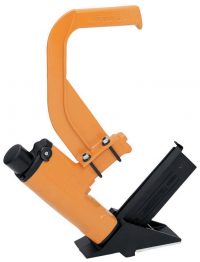 #3. Runner Up
Bostitch MIIIFS Pneumatic Stapler
Our Rating
This is the best flooring stapler that you're going to find on the market today. It offers a mallet-actuated, high-speed stapling experience that is perfect for 0.5-0.75 inch hardwood flooring.
The aircraft-grade aluminum housing will stand up to the toughest jobs.
The design is also built with specific ergonomics that will help you stay comfortable while working while still making your staples as flush as possible.
This stapler is built for durability and comes with a 7 year warranty to back up your purchase.
Our handy guide to the best Staple Gun For Wood features more great products like this.
Click here to check the latest price and checkout the reviews
Video Transcript
[Music] this is a review of the plastic cleats flooring nailer the nailer comes from the factory with a pre-installed spacer for a 3/4 inch unfinished flooring it also comes with straighter blocks for a half inch and 5/8 inch flooring which is clearly marked on the backs and my kit came with a finished flooring a prefinished flooring kit with a pair of shims if you're using the nailer for unfinished flooring then go ahead and put the right spacer you need and get started if you're going to use pre finish flowing like I am then first we'll need to make some modifications the first thing we need to do is remove the two feet on the one end and these are just rubber spacers mine came kind of tight so you may need to use a pair of pliers to get them off initially and then you'll need to remove the spacer block in order to install the shims and the foot here's where things start to get a little strange the manual says to use two shims if you're using half-inch flooring and one sham if you're using 3/4 inch flooring but it doesn't tell you what to do with 5/8 inch flooring which is what I'm going to use but with some experimentation I discovered that one shim is perfect for lining up the nose on to the chute [Music] with the nailer upside-down and a sample of my 5/8 inch prefinished flooring you can see what I mean the nose lines up perfectly with the top of the top the back of the nailer runs on some rollers one on each side and these pins and sit on one of two positions in the bottom position is where they want you to put it for up to four inch pouring including five-eighths and as I alluded to earlier this is where things go a little bit weird with the fins you can see that with one shim in place even though it rested perfectly on the tongue this edge sits too high so if I tried to nail it in this position the nose of the nail gun would be sitting too high and I wouldn't get flush heads going into the into the hole now if I put it in the other position moving this little o-ring on the back of the shaft that's awful and then putting the o-ring back on what the rollers in the other position you can see now that the tongue sits flush up against the nose and this is going to be the right height position but the back has now a big gap and it the entire nailer the handle seems like an afterthought more than a feature design but it attaches using some L bolts and some nuts and washers it simply goes around the handle and then you slide the long side through the top hole like that and then the bottom side will slide through the slot on the bottom like this this nailer uses a plug that requires a 3/8 inch NPT fitting on one side of it as opposed to most other air tools that only requires the quarter inch size now if you get one that already has some pipe goop on it you can go ahead and thread it straight in if not you'll need to use some teflon tape or some pipe group I like to use tape because it's a little bit cleaner and it doesn't need to cure I typically use two to three rotations of tape if you use less than that there might not be enough to form a proper seal and if you use too much then it made bunch up on the threads and not form a seal either as with all air tools drop in a little bit of oil the included mallet is pretty hefty and it feels pretty solid it's made out of graphite the head looks like it's cast-iron and then you have this large rubber head it weighs in at just under three pounds with most of the weight in that cast iron head loading this is pretty straightforward take your clip of nails line up the cleat in the direction of the opening it's only going to go in one way and then just drop it in on the side you're going to notice a couple of tabs there's going to be a large tab and a small tab you want to pull the large tab all the way back until you hear it click let go and now it's engaged now if you need to change the clip of nails pulling on this large lever again won't disengage it what you have to do is now pull the small lever and you'll see this ribbon kind of flex and it disengages the clip on the inside and once it flexes you can let go and now you can pull out the nails this prefinished flooring splits comes with a cutout on each side which gives you visibility on whether or not you have the nose properly snugged up against the edge of the board remember I showed that with the 5/8 inch board properly lined up against the nose there's a little bit of rocking here and to make sure that it stays where I need it to I'm gonna go ahead and put my foot on it then you have to give it a good whack now unlike most air tools where the air does all the work this one requires a little bit more mechanical assistance so hit it hard and for demonstration purposes I'll show you what happens if you just let the hammer do all the work and not take a good swing at it you can see here that hitting with enough force caused the cleat to seat all the way in but if you let the hammer drop just by its own weight then it's not even half way in overall this is a great solid performing nailer the handle location is well balanced and it won't strain your wrists the loading and unloading mechanism is very easy and straightforward [Music] the holes in the foot for making sure that the nailers lined up with the board is a helpful feature it does have its issues first and foremost are the manuals they are terrible the manuals come in two different flavors you have one manual for the foot and one manual for the nailer which leads me to believe they weren't developed at the same time or offered separately at some point the manual for the nailer is actually also the manual for the stapler and if you get past the warnings there's only about four pages of actual instruction the rest of it is in different languages and not very helpful there are only three pictures and of those three pictures the loading at least for the nailer is completely wrong that is not how you load this nailer the manual for the foot only shows shim positions for 1/2 or 3/4 inch flooring so leaves out 5/8 inch flooring handle feels like an afterthought it's attached just using a pair of L bolts but it looks like they could have easily designed it from the beginning to attach to the handle itself there are only two positions for the rollers and there's only one set of rollers which means the 5/8 inch size is going to rock now there isn't room on this base to put in a third set of holes so what I would have suggested is to give us a second set of rollers this last one's just a bit of nitpicking to attach the foot we use the four screws that were originally used to hold on the spacer and the back we remove these two little rubber feet but there's nothing holding that it's the base of the nailer so there's just a little bit of slop here after installing a few hundred square feets and going through about a thousand nails I'm happy to report I didn't have a single jamb it did take about a hundred square feet before I was comfortable enough with the rocking to not put my foot on it every time once you look past the bad manuals and awkward adjustment procedures the simple nailer should provide many years of dependable service you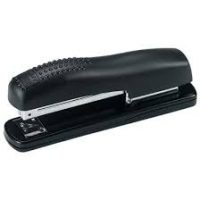 #4. Runner Up
Bostitch Ergonomic Desktop Stapler
Our Rating
If you need a solid stapler for your desk, you won't go wrong with what this model from Bostitch can provide.
It's comfortable and it's durable, yet it won't cost you an arm and a leg. It has a 20 sheet capacity to take care of your standard office tasks and can be adjusted for standard or temporary stapling.
You can even open it up for bulletin board stapling. You get all of this good stuff for less than $10 online right now – give it a try and you'll see that this stapler is built to last.
Find more great products like this by checking out our guide to the best Fence Staple Gun.
Click here to check the latest price and checkout the reviews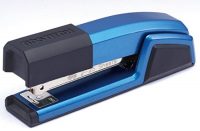 #5. Runner Up
Bostitch Epic All Metal Antimicrobial Stapler
Our Rating
Can a stapler be epic? The red Swingline stapler is often thought of as the most epic tool in the industry, but this Bostitch version might just change your mind.
It opens up a full 180 degrees and even includes a staple remover that's built into it. There's also a hidden storage compartment so you can keep spare staples ready for use.
A die-cast metal construction gives this tool a heavy duty look and it staples up to 25 sheets at a time.
We have also reviewed the best Upholstery Staple Gun, so check them out as well.
Click here to check the latest price and checkout the reviews
Video Transcript
Hey there guys Tejada here with ochmip.com so today I really wanted to share with you the Stanley Bostitch Epic Stapler. Now I have really grown to love this thing and I even nicknamed it by mini Swiss Army Knife because of all the different features. First off the Epic does have a very solid die-cast metal build and it also a softer grip here at the top which helps the Epic stand up straight in a vertical position. There is also some soft rubber grip here on the bottom for a nonskid base when sitting horizontally. Now if you happen to be a bit of germaphobe like I am you are really going to appreciate the antimicrobial protection just to help whip out some of those extra germs in the office. Now you are going to load your Epic like your traditional Stapler here at the top and it even opens to a full 180 for tacking ability. Now here is my favourite part. On the bottom her you will notice there is a secret compartment we can actually store an extra strip of staples and you see this here at the top this is actually a built-in staple remover. It's like they thought of everything. Now I know that some staplers say they are jam-free guarantee if use a particular type of staple that's not case of the Epic. Bostitch has innovative no jam technology that delivers a clean, crisp staple, jam-free every time. Let me show you, does have a staple sheet capacity of about 25 sheets here, just some regular college paper, even one handed that was really quick and easy, clean front as well as a clean back. Now if you have any questions about the Bostitch Epic Stapler or any of our products go ahead and give us a call. We totally get it. Office products aren't fun but you got to admit chimps, chimps are pretty fun.
Why Choose Bostitch For Your Next Stapler?
Bostitch has incorporated two popular brands under one umbrella: Black & Decker and Stanley. That's why sometimes you'll see this brand referred to as "Stanley Bostitch" or "Stanley Black & Decker" when looking at online product listings. With innovative fastening tools, top quality manufacturing process, and a wide array of products, you'll find that just about every tool produced by Bostitch is suitable for fulfilling your home improvement, commercial, construction, or industrial needs.
What makes the production value of a Bostitch stapler better? It starts with how their tools are put together. You'll find many of the products offered are industry firsts: from carton-closing staplers to other office staplers, innovation is at the heart of this brand. They say it right on their website: you deserve the best.
Terms To Understand When Using Bostitch Staplers
You'll find certain terms being used in Bostitch stapler reviews that are a reflection of the industry jargon that is used. Here is a brief list of the different terms of the trade that may be used so a greater understanding of each review can be obtained.BCS: These are heavy duty staples provided by Bostitch that have been on the market for over 60 years.Coating: This is a polymer coating that is exclusive to Bostitch tools which acts as a lubricant to the staples and adds to their holding power.Crown: This is the distance from one leg of a staple to the other.Double Fire: This occurs when two staples are released by the Bostitch stapler, but it seems like only one staple was fired.Magazine: This is where the staplers are held. New Bostitch magazines are called "breathing magazines" because they allow for jammed staples to be automatically expelled.Leg: This is the part of the staple that goes into the materials being bound together.Point: This is the sharp end of the staple leg.Trigger: This is the device that is activated to initiate a stapling action. Some may have an actual trigger which may need to be pulled, while others are activated by pressure at the tip of the machine.
The Benefits of a Bostitch Stapler
Bostitch has designed their staplers to be as low maintenance as possible. In some of their products, there are up to 30 fewer parts than in competitive brands. This means you get to save money because there is less overall service that is required.
You'll also find that Bostitch has created magnesium housings for a number of their staplers. This gives users a higher level of durability without creating a tool that is heavy and bulky. The power staplers from this brand are remarkably quiet as well, so you won't have the ringing in your ears even with hearing protection on when you've finished your project.
Bostitch has also created some innovations with their tools that allow you to work faster and more effectively, whether you're stapling up roof paper or installing a kitchen cabinet. These tools come with what is called a "no-mar" tip that helps to protect the work surface from scratching and indentation. A magnetic magazine helps to keep your staples in place for faster loading and some models even offer adjustable depth controls so you can make adjustments on the fly while you're working.
Common Issues With Bostitch Staplers
Bostitch staplers are a very durable tool, but they do see a number of common maintenance issues over time. The top issue comes from the normal wear and tear of the rubber components that come from usage. This happens especially when high volume stapling is occurring. Routine maintenance to replace O-rings and trigger valves can correct up to 90% of the maintenance issues that people see with their Bostitch staplers.
Some electric staplers and pneumatic staplers by this brand also require ongoing lubrication in order to function properly. You'll need to check fluids regularly and apply oils and other lubricants as needed to prevent a premature breakdown. Some products are designed to be oil-less, however, so make sure to completely review your operator's manual. Please note: a failure to provide proper lubrication to a Bostitich stapler may be grounds for the warranty to be voided.
And then there are the normal job site hazards that can affect your new tool. Dirt, dust, and other debris can get into your stapler and cause it to malfunction. Although this usually just requires the unit to be cleaned, it can sometimes be a time consuming chore. If your stapler or compressor comes equipped with an air filter, make sure you are checking it regularly to prevent a premature breakdown.
What Are the Prices For Bostitch Staplers Today?
The price points for Bostitch staplers tend to fall within the medium- to heavy-duty pricing ranges, with some tools being in a premium pricing area. For standard office use or for DIY chores around the house, a Bostitch stapler can often be found in the $45-$80 range. Some electric models will be in the $100-$200 range depending on the features the tool contains.
Pneumatic models are priced for a little less than electric models, but do require a compressor, so keep that in mind while shopping for your new Bostitch stapler.
Final Words
​The best Bostitch stapler reviews will help you find a great product at a great price. Find yours today and make stapling become fun once again.
It's no surprise that a Bostitch stapler made it to the top of our Best Heavy Duty Stapler review here.