2
Dec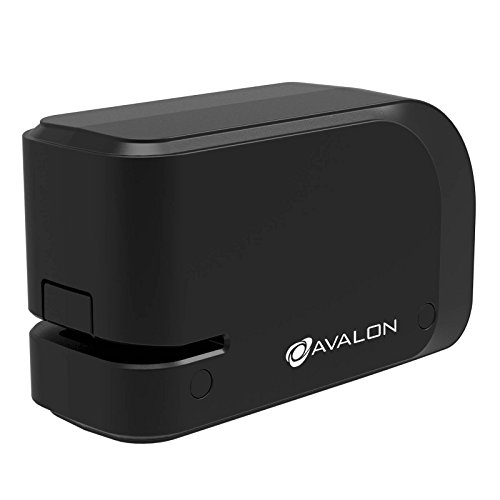 Do you have high volume stapling needs? Are you tired of your hands and wrists hurting from all of the manual stapling that you're doing? Then you're going to love what this Avalon fully automatic electric stapler can do for you. Any administrative environment gets a boost with this stapler as part of your office supplies. It's perfect for home use, high capacity office use, or even for the classroom.
What makes this electric stapler from Avalon such a great product? We picked out three specific features that we really enjoyed during a testing period.
It endures through high capacity use. Over the course of one day, we ran over 1,000 documents through this electric stapler to see if we could get it to break down or jam on us. Only twice was there an incorrect staple and even then it didn't jam on us.
The battery backup provides an equal level of power. The battery backup on this Avalon stapler works just as well as when you've got it plugged into an outlet. You won't sacrifice stapling power just because you're using alkalines.
You can find this electric stapler for less than $30 online right now. 
This isn't a massive stapler that will get you through heavy duty documents. Avalon has created an electric stapler that is designed to replace your manual office staplers. 
How To Get the Most Out of Your Avalon Electric Stapler 
The Avalon electric stapler works best when it is plugged into the wall. If you're using the battery backup, then you'll get about 50 documents stapled before the power curve begins to wind down. At this point you'll begin to see document tearing, so just avoid going there in the first place. Replace the batteries or use rechargeables.
It also doesn't perform angled stapling very well. It works best if you slide the document into the stapler with the horizontal edge of the paper at 90 degrees. This gives you a better level of consistency when stapling at high volume levels.
Holding the document as still as possible also generates better results. If you've got the shakes from having too much coffee in the morning, for example, you might find an incomplete fastening of your document. Smaller documents tend to be more forgiving in this area than larger documents.
Is This the Best Electric Stapler? 
What surprised us about the Avalon electric stapler was how lightweight it was. It weighs less than a pound, which you wouldn't expect if you looked at the pictures of this stapler's boxy frame. Despite this lightweight construction, it still powers through staple after staple without hesitation. Just keep the capacity of the unit in mind – if you're using 24/6 staples, then the maximum number of sheets that it can staple is 15.
For general administrative tasks or home office work, the Avalon fully automatic electric stapler can improve the speed of your paperwork. This leaves you more time to do things you love to do and that's always a good thing.
Click here to check the latest price and buy the Avalon Fully Automatic Electric Stapler.