2
Jul
No one could argue with the saying that "A picture is worth a thousand words".
There is untold value in how we frame it.
Our picture frames become the home for some of our fondest memories. What excuse could one possibly have for making this a shabby home? Picture frames have been around almost as long as pictures have been.
In 1839 the world was for the very first time able to experience commercially viable photography. This was through the daguerreotype. It would have been inconceivable at the time that we would place as little value on photography as we do today.
Owning a staple gun for picture framing somewhat allows you to harness some of the power to hold on to this valuable resource.
Just like any other hobby or endeavour for that matter, having the wrong tools makes things more difficult than they should be.
This post will look at the best staple gun for picture framing. It will make you more informed to make a wise choice in your search and purchase.
Are You In A Hurry?Our Test Winner After 35 + Hours Of Research: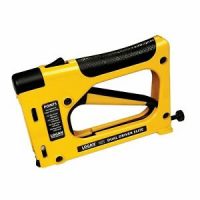 Click Image For More Info
Logan F500-2 Dual Point Driver Elite
Our Rating
Why It's Our Top Pick?
It was not easy but had to pick a winner. For this one, we wanted one that was affordable and user-friendly.
Getting a bang for your buck was another factor that we considered. Our top pick comes with grid points that make it usable straight out of the box. The Logan F500-2 Dual Point Driver Elite is our top pick.It has adjustable pressure adjustment to allow you to use it on a chosen surface. Whether you are working on a pine picture frame, or on one that is made of oak, the F500-2's adjustment will help.
You will find a more detailed review further down.
Click here to check the latest price and checkout the reviews
What makes a good staple gun for Picture Framing?
Staple guns come in all shapes and sizes. While a lot of them can be used for general purpose, it is the size of the staples that guide how we use the gun.
A good staple gun is one that is well made. Durability is of uttermost importance. At the higher end of the pricing scale, you want to know that you have gotten your money's worth.
At the lower end of the scale, you would hope that the gun finishes some jobs.
No matter how cheap it is, no one appreciates a gun that falls apart during a job.
Before buying a staple gun, you would ideally want to make sure that it is suitable for the job that you need to use it for. This may be down to the size of the staples that it takes.
If you are looking to do some superficial work, you cannot use a stapler that goes too deep into the material you're working on. By the same token, if you are looking for the staples to hold up something heavy, you'll need staples going deep.
All staple guns fall into one of three categories. These are based on what drives them. They are either driven by human power, electric power or compression air power. Which one you use for what task may come down to the location of the task.
Where there is no access to electric power, you may go with compression air which is also referred to as pneumatic.
If you are on a budget or want a method that is the most environmentally friendly, you would go with human power.
Our Top 5 Best Staple Gun For Picture Framing (And reviews) For 2023:
1.  Logan F500-2 Dual Point Driver Elite
2. DEWALT DWHTTR350 Dewalt Heavy-Duty Aluminum Stapler
3. Surebonder 9600AK Pneumatic Heavy Duty
4. Topec 3 in 1 Manual Nail Gun
5. Arrow Fastener T50ACD Corded Electric Staple Gun
What Do Our Reviews Have To Say?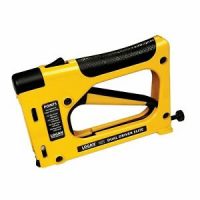 Click Image For More Info
#1. Our Overall Top Pick
Logan F500-2 Dual Point Driver Elite
Our Rating
The Logan F500-2 was designed as the next generation of picture framing point driving tools.
A lot of effort has been put into efficiency.
The handle has a comfortable rubber grip. It is fashioned to lessen the amount of effort that is required to get the work done.
It comes with 50 grid points, 50 flexible points, a point driver and instructions. The flexible points are black.
Whether you are working on a rigid or flexible point, you are in luck. There is stronger downward point pressure on materials. You can refill this with f53, f54, f55 and f56 points.
Allow yourself some time to get used to pressure gauging. Different types of wood and surfaces require different levels of pressure. It can be a learning curve.
Try it out on waste pieces of wood just to make sure that you know what you are doing before you move on to the actual picture frame.
As far as jamming goes, you are also in luck. We didn't encounter any issues in our rigorous testing. Neither were we able to find any user who had bought this and had a jam.
This worked well on surfaces such as pine, plywood, oak and maple when tried.
It gives you a driving depth of between ⅛" and ¼". After trying it on some samples of resin, I can safely say this is not the best gun for resin.
The very hard resin started to chip when pressure was increased to try and drive the points in. The softer wood had no problem with this at all.
When working on most surfaces there is very little vibration. This makes this staple gun suitable for working with pastels as well. It also works on MDF frames.
If you are going to use this on glass picture frames, be sure to use the black points.
Be sure to check out our Long Arm Stapler guide for more great tools like this one.
Pros
Well designed and easy to use.
You will be unlikely to have it jam on you.
Extremely lightweight. Easy to carry.
Cons
Some users have reported having issues after replacing the style points.
Does not work well on the hard resin.
Click here to check the latest price and checkout the reviews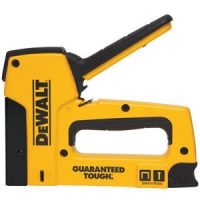 Click Image For More Info
DEWALT DWHTTR350 Dewalt Heavy-Duty Aluminum Stapler
Dewalt has been a part of every DIY toolkit for generations. The Dewalt DWHTTR350 is a testament to this heritage.
The easy-squeeze technology means that there is much less pressure required to get your staples out. The body is housed in a lightweight die-cast aluminium casing. This is synonymous with durability.
The magazine is said to be "anti-jam".
It reduces the chances of jamming and misfiring.
You also have the option to use a variety of staple sizes. In addition to the Dewalt Heavy duty staples range, you can also use the Stanley® TRA700 Series Heavy duty staples & 18 Gauge Brads, plus Arrow® T-50 Heavy duty staples.
No matter what you are looking to use this stapler for, versatility will go a long way. The staples range between ¼" and ⅝" in length.
Refilling it is also a breeze. You only have to lift the black tab at the bottom. Once that is raised the staples slot right in. I don't know the term "heavy duty" is quite right as a description for it. It is certainly not lightweight, at 2lbs.
You will be happy to know that when you put a staple into your frame with this, it really goes in. They are not easily removable. It also means that you have to be more careful about your stapling.
The exit point for the staples is somewhat central, which is unusual. 
Some people may prefer this, but I am certainly not part of them.
Getting accurate stapling done is harder from a central position than from the top or bottom.
Its top features include a belt hanger, the ability to lock the handle, ease of loading and the refill indicator! If the title didn't give it way, in addition to staples, it also fires brads.
If you are looking for more Heavy-Duty Stapler reviews, check out this guide.
Pros
Well-known and respected brand.
Strong, durable die-cast body.
Can use a wide range of staple sizes.
Easy to refill
Does not require much effort to use.
Cons
Some defective models have been known to jam and misfire.
Smaller men and women may find this difficult to use.
Click here to check the latest price and checkout the reviews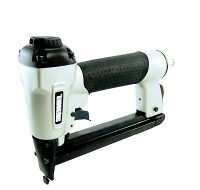 Click Image For More Info
Surebonder 9600AK Pneumatic Heavy Duty Standard T-50 Type Stapler
If you fancied a pneumatic one as opposed to the manual ones that have already been recommended. The Surebonder 9600AK is a great pick.
At this point, we should probably mention that it does not come with an air compressor.
Don't rule it out just yet.
It is a lightweight stapler, easy to carry around. Each package comes with 1250 staples of different sizes. Talk about versatility. You get 1/4″, 5/16″, 3/8″, 1/2″ and 9/16″ staples. An impact carry case is also provided.
Peace of mind in knowing that if or when you drop it, it will have a better chance of surviving. There are also an Allen wrench, tool oil and some instructions provided.
One of the more understated features on this is the accident misfiring guard. This is a feature that prevents this from happening.
The air exhaust is also adjustable. For the harder job, you will find great comfort in knowing that the handle is rubber cushioned.
When you run out of staples, the magazine has a quick release mechanism. It really could not be any easier to refill it. The staple viewer gives you an indication when you about to run out.
Now down to that air compressor issue. You can fit any regulator fitted air compressor onto this stapler. The regulator would allow you to adjust to the PSI that you require.
The stapler has a standard male air hose coupler. This makes it very easy to connect to an air compressor. You can make even easier by getting a quick release airline hose.
The recommended CFM rating is between 60 and 100 psig.
Looking for a Heavy-Duty Staple Gun? We have you covered with this guide.
Pros
Value for money.
You get 4 boxes of staples free.
Free carrying case, oil and Allen wrench.
Takes a wide range of staple size.
Great safety features.
It is fairly lightweight.
Cons
Does not come with the air compressor.
The staple sight window isn't large enough to be useful.
Click here to check the latest price and checkout the reviews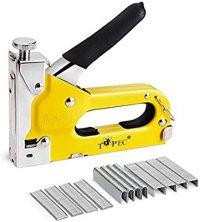 Click Image For More Info
Topec 3 in 1 Manual Nail Gun
Another incredible staple gun for picture framing is the Topec SG-1 nail gun. It is made of thick carbon steel.
You are guaranteed that it will be very hard to break.
There is a spring back mechanism that allows it to recoil after each staple.
Where most manufacturers hope that jamming doesn't happen, Topec has a remedy in place. There is a quick jam clearing mechanism. It can be cleared by pulling down the binding switch.
This gives you enough access to easily get rid of any staples that have gotten jammed. When the loading rod has been removed, the metal channel can the switched and pulled down.
A knob right at the back allows you to adjust the stapling power. Not all jobs require the same amount of force or intensity.
You can use D-Type, U-Type and T-Type staples. This is one of the things that makes this stapler suited to picture framing and other decorating tasks.
Each package includes the staple gun, 600 D-Type staples, 600 U-Type staples and 600 T-Type staples.
You can tackle most tasks with these straight out of the box, without the need for any additional material or tools.
It is very easy to use.
There's a handle lock at the bottom of the handle. The handle has a non-slip rubber attached to it. At the very bottom is a staple remover. You will need to undo some of the things you will do with this.
The quick view window allows you to monitor the level of staples in the magazine at any given time.
What is the overall best gun?
Check out our Best Staple Gun Reviews post for our answer.
Pros
Lightweight.
Easy to use.
Comes with everything you need to use it immediately.
Durable.
Cons
Instructions are difficult to follow due to the font size.
Will jam. To their credit, it is easy to unjam it.
Click here to check the latest price and checkout the reviews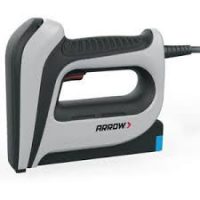 Click Image For More Info
Arrow Fastener T50ACD Corded Electric Staple Gun
The list couldn't be complete without an electric option. The Arrow Fastener T50ACD is termed Arrow's breakthrough electric stapler.
It has a patent pending for a spiral drive motor that replaces their solenoid design. This is meant to improve the tool's versatility where power sources are concerned.
In a practical sense, this has meant that you get a more powerful staple gun. It is powered by a 110v cable.
The bottom load magazine has a quick release feature that allows you to reload it at top speed. Please ensure that you have unplugged the staple gun before trying to refill it.
Refilling is done while the staple gun is upside down due to the location of the magazine. The grip on the handle is contoured. Underneath it is a very large trigger.
For enhanced accuracy, it also has a staple view window.
You can use 1/4″ (6mm), 3/8″ (10mm) and 1/2″ (12mm) staples. Arrow have their own range of T50 staples that they recommend. The prevailing wisdom is that Arrow staple guns work better with Arrow staples.
There is no evidence that we could find to support this. Seeing as the sizes are fairly standard, there is no reason you would be resisted to their brands if you wanted something different.
If weight is of concern to you, it weighs just over 2lbs when fully loaded.
Want more electric recommendations? Check out our Best Electric Stapler Reviews.
Pros
Easy to use.
Functional design with bigger trigger than others.
Easy to refill staples.
Takes common sizes of staples.
Enhances productivity due to speed.
Cons
Does not allow you to adjust depth.
The magazine does not hold a lot of staples.
Has occasional issues of misfiring.
Click here to check the latest price and checkout the reviews
Picture Framing Staple Gun Buyer's Guide
We have covered our top picks in some detail. This buyer's guide will be of use if you are considering another staple gun that didn't make our list.
It will cover what sort of things you should look for when considering whether or not to purchase a certain staple gun.
What do you look for beyond it being manual, pneumatic or electric?
There are some seemingly trivial things that you may unwittingly ignore. This guide will inform you enough to go and confidently make your decision.
Flexible vs Rigid points
You will recall that some of the staple guns take both rigid and flexible points. This may have left wondering what they are and how they are different. Without going too technical.
Rigid points offer much less movement. They are made to be steady and to stay in position. 
These will not allow for any play.
The flexible points are the opposite of the rigid ones. They allow for more movement. These are soft and bendable.
How to figure out the staple size you need
Buying the right staple gun may often come down to the staple sizes that you want to use. If the staple gun you fancy does not take the staples that you need to use for the job, it is not the right one.
This is an approach that I term working backwards.
What is the best size of staples for picture framing?
There is no simple answer to this question. It depends on the type of wood that you are using. The harder the wood is, the thinner you will want the staple to be. Chisel staples tend to have sharp edges that allow them to cut into the hardwood (if you are looking for a dedicated wood stapler, then check out this article).
| Staples Size | Wood Type | Depth |
| --- | --- | --- |
| ¼" / 6 mm | HARD (Oak, Plywood, MDF) | Short staples |
| 5/16" / 8 mm | HARD (Oak, Plywood, MDF) | Medium Length Staples |
| ⅜" / 10 mm | SOFT (Pine, Douglas Fir, Foam) | Long Staples |
| ½" / 12 mm | SOFT (Pine, Douglas Fir, Foam) | Long Staples |
What's the best way to hang wire & Bumper pads?
There are several ways that you could do this. The picture hanging wire method is one of the more popular ones.
This is down the the flexibility that it offer regardless of the size of the picture that you are looking to house. 
Nowadays the strap line hangers that have D-rings are the best way to do this. 
They offer the piece of mind of knowing that there will not be any damage to the wall when you hang the picture frame.
The best place to put your D-ring is about one-third length from the edge of your frame.
The order of doing things will be as follows:
Install your D-rings.

Thread the wire.

Insert the bumper pads.
Installing the D-rings
Once you measured a third of the length from the edge of the frame, mark the spot. The next step will depend on how hard the wood that you are working on is. When working on soft to medium wood, use a scratch awl to create a pilot hole.
A screw should easily go into the marked spot when driven or turned by a screwdriver.
If you find this difficult to do, chances are you are working on hardwood. On such surfaces, you will need to drill a small hole with a power drill. You'd then use a power screwdriver to insert the screw into the frame.
Threading the wire
Threading the wire is a simple procedure. One end of the wire is put through the D-Ring opening. To ensure that it holds, coil the end that you have just threaded through the opening. The coiling is simply tightly wrapping the coil around itself.
Stretch the other end of the wire to the second D-Ring. Put it through the opening and do exactly what you have done with the first D-Ring. In this case, ensure that there is no excess wire left hanging.
Inserting the bumper pads
The purpose of bumper pads is to protect your picture frame from the wall, and the wall from the picture frame. It softens the impact between the two surfaces when they come into contact with each other.
This is usually the final step before your frame is mounted.
Use self-adhesive bumper pads to cushion each of the four corners of your frame. They just stick onto the corner. There's a sheet of paper covering the sticky end of the bumper pad. Peel these off and stick it onto your frame.
Going Cordless or Wired
You probably know that powered staple guns come either cordless or wired. The cordless ones are usually battery powered, while the wired ones plug into the mains in your home. It is difficult to think of a scenario within your home where you would be unable to use a wired staple gun.
The wireless one may be out of power or need a replacement battery. This is one potential inconvenience.
There isn't much of a difference where running costs are concerned. You will need to use your electricity to provide direct power or to charge the battery.
Picture framing will mean that the work can be carried as close as possible to the nearest plug without much fuss. In the end, it will come down to preference.
There are some cordless staple guns that can also work when directly plugged to power, making them temporarily corded. This the versatility that may sway some buyers.
Freedom of movement is another factor. Cordless staple guns allow you to move with more freedom.
The presence of a cable poses some minor limitations when working.
Safety Features
The last thing you need is to pay for something that will cause harm. Staple guns are powerful tools. If not handled well, they will put users and those around them in danger.
A trigger lock is the first thing to consider. Ease of use is great, but it shouldn't compromise safety. You want your staple gun to only be triggered when you want it to work.
The staples also need to be kept at bay. You want your staple gun to be difficult enough for a minor to operate or to open.
Pricing Range
Staple guns for picture frames come in various forms and from different brands.
This, of course, affects the prices. You can pick up one from as little as $30.
At the other end of the scale, you will be looking at a few hundred dollars. The manual staple guns are the cheapest. Pneumatic ones are mostly in the mid-range, with some going quite high. The electric ones are at the high end of the pricing scale.
Extra Bits
One of the things that may convince you to make a purchase is the extras that will come with the staple gun. In some cases, you get some extra value for your money.
When you are offered these extra bits, be it staples, carrying cases and so on it is important to check what they would cost you if you bought them for yourself. You may find that it is not worth the offer.
A pneumatic staple gun that comes without the air compressor may still be cheaper than an electric one that comes with extra bits. This is something that you can decide on once you have factored everything in.
That being said, getting a staple gun that comes with everything that it needs to work right from the box will cut out a lot of stress. The key thing is not to make a decision based on shiny objects and offers, at the expense of quality or value.
Final Words
This review of the best staple gun for picture framing, as well as the buyer's guide, should have provided you with the perfect staple gun. If not, you will have enough to independent reach a decision.